Model W Double Tapered Mixer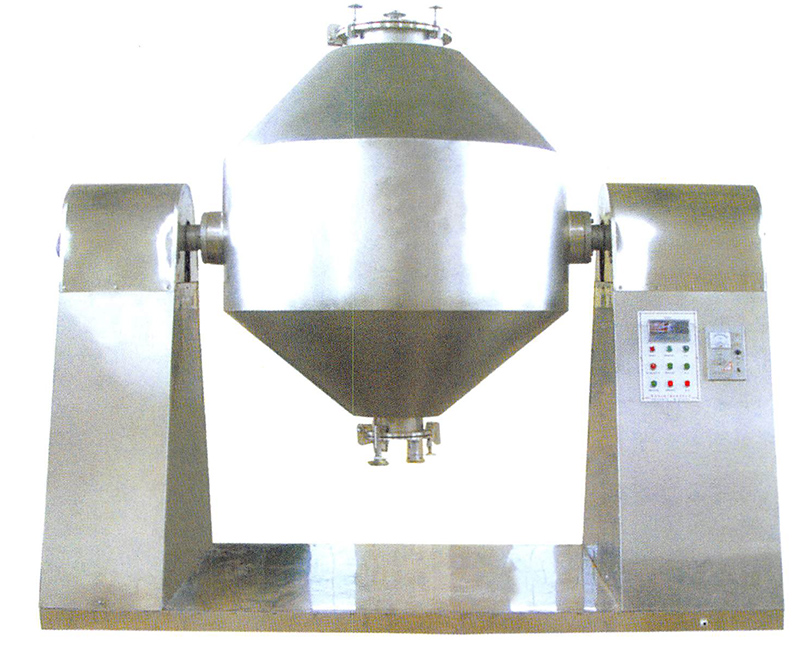 Principle
※ Through the vacuum conveyer for the machine, send the powder or grain state materials into the double-taper container, or send the materials into the container manually. As the container rotates continuously, the materials moves complexly in the container so as to get uniform mixing.
Application
※ It is suitable for mixing the powder and grain state materials in the pharmacy, chemical food, buling material and other industries.
Technical parameters
| | | | | | | | | | | |
| --- | --- | --- | --- | --- | --- | --- | --- | --- | --- | --- |
| type | 0.3 | 0.5 | 1.0 | 1.5 | 2.0 | 2.5 | 3.0 | 4.0 | 5.0 | 6.0 |
| productive capacity(kg/h) | 120 | 200 | 400 | 600 | 800 | 1000 | 1200 | 1600 | 2000 | 2400 |
| time of raw material fed in(min) | 3-5 | 4-6 | 6-9 | 6-10 | 8~13 | 8~15 | 8-12 | 10-15 | 15-20 | 18-25 |
| mixing time(min) | 6~15 | 6-15 | 6-15 | 6-15 | 6-15 | 6~15 | 8~20 | 8-20 | 8-20 | 8-20 |
| total volume(m2) | 0.3 | 0.5 | 1.0 | 1.5 | 2.0 | 2.5 | 3.0 | 4.0 | 5.0 | 6.0 |
| string speed(rpm) | 12 | 12 | 12 | 12 | 12 | 12 | 12 | 12 | 12 | 12 |
| power of motor(kw) | 1.1 | 2.2 | 4 | 4 | 5.5 | 7.5 | 7.5 | 11 | 15 | 18.5 |