Model EYH Planar Motion Mixer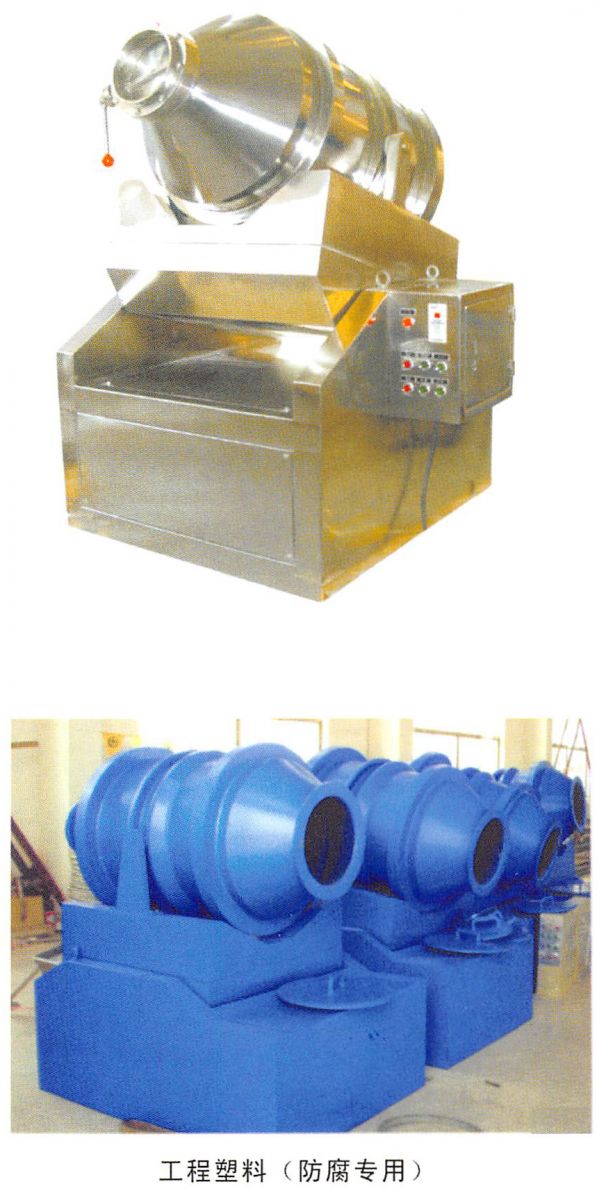 Principle
※ EYH Series Two Dimensional Mixer Principle Two dimensional mixer mainly consists of three big parts, namely, robating cylinder, swinging rack and frame. The rotating cylinder lies on the swinging rack, supported by four wheels and its axial fixation is done by two stop wheels. Two of four wheels are driven by rotating power system to make the cylinder rotate, the swinging rack is driven by a set of crankshaft swinging bar which is mounted on the frame and the swinging rack is supported on the frame.
Feature
※ The rotating cylinder of EYH Two Dimensional Mixer can make two motions at the same time. One is the rotational the cylinder and the other is swinging of the cylinder along the swinging rack. Materials to be mixed will be rotated when the cylinder is rotating. And will be mixed from left to right and vice versa when the cylinder is swinging. As a result of these two motions, materials canbe mixed fully in a short time, EYH Two Dimensional Mixer is suitable for mixing of all powder and granule materials.
Technical parameters
Specifications Model
Volume(L)
Loading factor
Loading weight(kg)
Dimensions(mm)
power(kw)
A
B
C
D
M
H
Turn
swing
EYH100
100
0.5
40
860
900
200
400
1000
1500
1.1
0.75
EYH300
300
0.5
75
1000
1100
200
580
1400
1650
1.1
0.75
EYH600
600
0.5
150
1300
1250
240
720
1800
1850
1.5
1.1
EYH800
800
0.5
200
1400
1350
240
810
1970
2100
1.5
1.1
EYH1000
1000
0.5
350
1500
1390
240
850
2040
2180
2.2
1.5
EYH1500
1500
0.5
550
1800
1550
240
980
2340
2280
3
1.5
EYH2000
2000
0.5
750
2000
1670
240
1100
2540
2440
3
2.2
EYH2500
2500
0.5
950
2200
1850
240
1160
2760
2600
4
2.2
EYH3000
3000
0.5
1100
2400
1910
280
1220
2960
2640
5
4
EYH5000
5000
0.5
1800
2700
2290
300
1440
3530
3000
7.5
5
EYH10000
10000
0.5
3000
3200
2700
360
1800
4240
4000
15
11
EYH12000
12000
0.5
4000
3400
2800
360
1910
4860
4200
15
11
EYH15000
15000
0.5
5000
3500
3000
360
2100
5000
4400
18.5
15