Model SYH Multi-direction Motion Mixer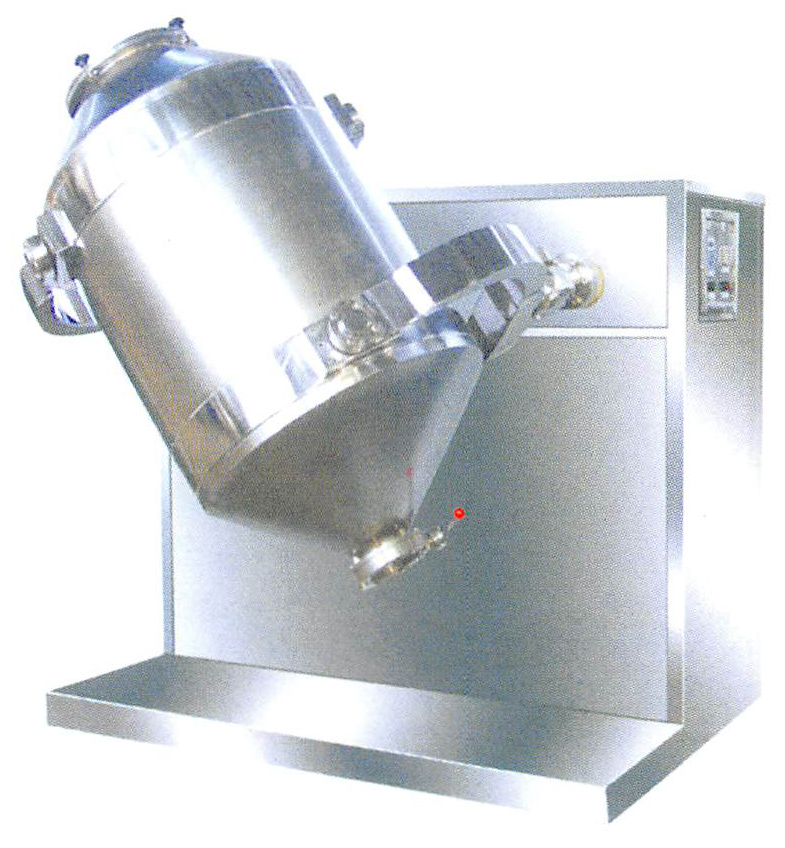 Application
※ This machine suitable for many industries such as pharmaceutical industry, chemical industry, metallurgy industry, foodstuff industry, architecture industry and institutes. It can mix powder and granule raw materials having good fluidity and make the mixed raw materials reach the best mixing state.
Feature
※ Because the mixing drum has multi directional motion, it makes raw materail inside the drum has many cross-mixing points, therefore the mixing effect is good. Its degree of uniformity may be over 99.9%. its max loading efficiency may be 0.9(the loading efficiency of ordinary is 0.4-0.6). Its mixing time short and its efficiency is high.
※ The design of mixing drum is unique. Its inner wall is polished finely. Its advantages are no dead corner, no pollution to raw material, convenient in discharge, easy in clean and so on.
Process flow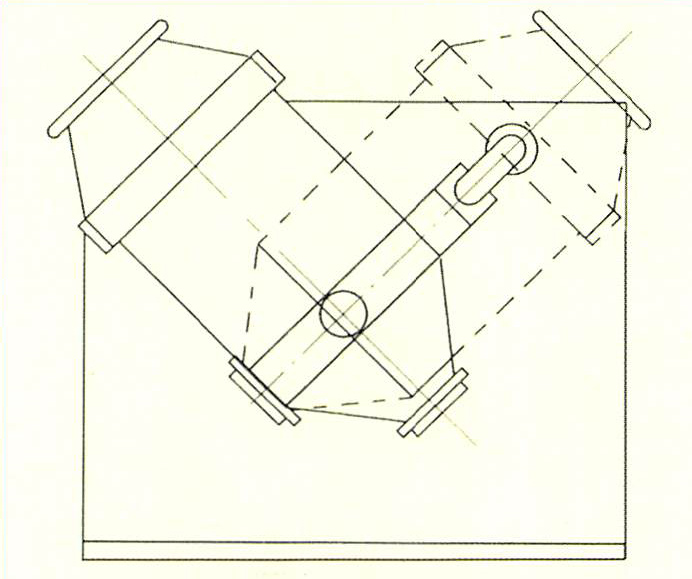 Principle
※ During the period of operation, because the mixing drum has multi-directional actions of motion, it speeds up the fluid and diffused effect of raw material. Meanwhile it avoids the phenomenon of segregation and accumulation caused by centrifugal effect in ordinary mixer and no dead corner. It can guarantee the best quality of mixed raw material.
※ Structure: this machine consists of stand, transmission system, electric control system, multi-directional motion mechanism, mixing drum and so on. The mixing drum contacted with raw material is made of stainless steel. The inner and outer wall of drum is polished.
Technical parameters
| | | | | | | | | | | | | |
| --- | --- | --- | --- | --- | --- | --- | --- | --- | --- | --- | --- | --- |
| model | SYH-5 | SYH-15 | SYH-50 | SYH-100 | SYH-200 | SYH-400 | SYH-800 | SYH-800 | SYH-1000 | SYH-1200 | SYH-1500 | SYH-2000 |
| Barrel volume(L) | 5 | 15 | 50 | 100 | 200 | 400 | 800 | 800 | 1000 | 1200 | 1500 | 2000 |
| Maximum charge volume(L) | 4.5 | 13.5 | 45 | 90 | 180 | 360 | 540 | 720 | 900 | 1080 | 1350 | 1800 |
| Maximum loading weight(kg) | 2.4-4.5 | 7.5-13.5 | 25-45 | 50-90 | 100-180 | 200-360 | 300-540 | 400-750 | 550-900 | 600-1000 | 800-1350 | 1100-1800 |
| Spindle speed(r/min) | 0-20 | 0-20 | 0-20 | 0-20 | 0-15 | 0-15 | 0-13 | 0-10 | 0-10 | 0-9 | 0-9 | 0-8 |
| Motor Power(kw) | 0.25 | 0.37 | 1.1 | 1.5 | 2.2 | 4 | 5.5 | 7.5 | 11 | 11 | 15 | 18.5 |
| Dimensions (L × W × H) | 600×1000×1000 | 800×1200×1000 | 1150×1400×1300 | 1250×1800×1550 | 1450×2000×1550 | 1650×2200×1550 | 1850×2500×1550 | 2100×2650×2000 | 2150×2800×2100 | 2000×3000×2260 | 2300×3200×2500 | 2500×3600×2800 |
| weight(kg) | 100 | 200 | 300 | 800 | 1200 | 1200 | 1500 | 1700 | 1800 | 2000 | 2400 | 3000 |